Since I founded 3D Mail Results, I have been aware of the undeniable effectiveness of an omni channel marketing approach. Often using  direct mail as the backbone of the campaign. They include email, social media, phone, and text messaging. However, the rise of digital ads raises an important question: should businesses rely solely on digital ads, direct mail, or should they combine both strategies?
We've all noticed how social media and digital advertising have exploded in popularity, and that's why we knew it was time for 3D Mail Results to adapt. We understood that direct mail alone couldn't be our only approach. Our main goal has always been to help small business owners succeed. If direct mail wasn't enough, we had to evolve.
Of course, direct mail is still effective, and we've expanded our product offerings to provide our clients with top-notch marketing solutions. But we also jumped into the digital world and, after years of fine-tuning, we introduced Direct Mail 2.0.
Here's how an Omni Channel Direct Mail 2.0 Campaign works:
STEP 1: We send targeted mail pieces to your desired audience, whether it's consumers, other businesses, or even your existing customer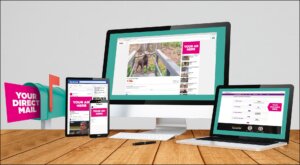 base.
STEP 2: We use a barcode system to track your mail pieces. This allows us to predict delivery dates and confirm exact delivery times down to the household level.
STEP 3: As your direct mail pieces are delivered and processed, your prospects and customers are shown digital ads on platforms like Google, Facebook, Instagram, YouTube, and Gmail. If someone visits your website after receiving your mailer, they enter a retargeting campaign where they'll keep seeing your digital ads.
By matching the design of your mailer, your digital ads create a powerful effect, making your business seem like it's everywhere. This boosts brand recognition and recall, greatly improving the chances of prospects identifying and remembering your business.
STEP 4: Our comprehensive campaign response portal is available online 24/7. It tracks clicks, calls, QR code scans, responses, and ad impressions, giving you real-time updates.
With Direct Mail 2.0, you can harness the power of direct mail and digital advertising to maximize your marketing efforts.
Don't get stuck in the trap of relying solely on traditional methods just because they've worked in the past. And don't dive headfirst into trendy digital methods and exhaust your entire marketing budget. What truly matters is what works, and we've been closely following marketing trends for nearly two decades.
We can customize an Omni Channel Direct Mail 2.0 Small Business campaign to target your ideal customers and deliver tangible results. Many clients have doubled their return on investment (ROI) simply by incorporating digital ads into their marketing mix.
Our patent-pending 13-point omnichannel platform has a proven track record in demonstrating a 23–46% lift in results over traditional mail.
We've saved businesses nationwide from the potential technological and siloed nightmare that omni channel marketing can create for marketing teams. Our approach is responsive, automated, inexpensive (a few pennies per mail piece) and — most importantly — proven by real-time data.
Book a demo with us today. Discover how our omnichannel marketing system can help your business generate more leads, sales and revenue. Scan the QR Code below, go to TheFutureOfDirectMail.com, or call (888) 250-1834 to book your free Demo.