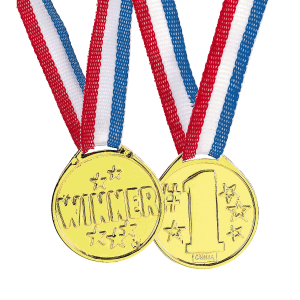 In keeping with our theme of holidays and current events, this month's feature is for February's Winter Olympics in South Korea. I'm cheating a little this month as this item has been used here before, but with great success. I've had members use this piece since we first introduced it for the 2010 Winter games. The results reported back to us by members were so good, I decided to bring it back again.
Here's the most recent report, from last years Summer Olympics in Rio. It's from Rob Pell, owner of Sunshine Natural Foods in Grants Pass, OR (www.SunshineFoodAndVitamin.com). The store offers vitamins, herbs, supplements and organ lunches. This came via e-mail on November 6, 2016:
Travis,
You know I've done several different promos direct to our customers. They always enjoy being appreciated and or getting free stuff.
That said, the Olympic promotion, sending them their own gold medal, is a notch above. The customers really had fun with it. We had our most conservative, tight-lipped (frankly, joyless) customer wearing his medal around his neck and a big smile on his face as he spent over $400.
Many others wore it too and pretty much across the board, receiving the promo with the medal was really fun for them. Very cool. See you at Mastermid next month.
Rob Pell
Using current events in your marketing is a sure-fire way to increase response. You typically need to move quickly on news items as they come and go quickly. However, with early (or in this case, semi-yearly) events you know about them well in advance and should capitalize on them. Remember, when the monthly item is tied to a current event we'll give it to you 2-3 months ahead of time so you have ample time to implement it in your marketing.
Since we're giving away gold medals this month, I think this is especially appropriate to send it to your top clients, your "A+" clients. Your own in-house list should always yield you the best results in direct mail, and really any marketing effort. If not, you've got an issue in how you communicate with your customers. Be sure to tweak the letter and make it your own.
Use your own language. However, the heavy lifting has been done for you here. The idea, the headline and tie-in to the event, has already been done for you. Be sure to include any guarantees, testimonials, endorsements etc. that should be included. All the required elements we discuss in Copywriter's Corner.
A few items you'll want to consider to spice up your offer. If you have a local Olympian who's making headlines you may want to wrap something around their performance, i.e. 10% off everything just because, 15% for a bronze medal, 20% for Silver, 25% for gold, or something along those lines.
There are quite a few Olympic hopefuls in our area (Seattle). People love celebrities and here's a FREE way to use them. You may also consider tying your promotion around the medal count. You could even donate a certain percentage of sales to the local Special Olympics. Anything that's going to create a buzz is certainly worth trying.
Since you'll being sending this piece to your "A+" clients, you'll want to use all the marketing means at your disposal; e-mail, phone, FAX, follow-up pieces, etc. I'm amazed at how few people use EVERYTHING they have available.
Your results will only go up when you add multiple steps with multiple media. When I run a promotion I typically use at least three different media; my printed newsletter, a 3D direct mail piece and e-mail. I strongly encourage you to use as many media as you can to increase response and profits.
The Olympics start on Friday Feb. 9. Order your gold medals today before they pass you by!
Do you want us to do the printing, mailing and fulfillment? We can do that! Just reply to this email or call 888-250-1834 and ask for Tara. She'll get you taken care of ASAP!
Call 360-761-7382 or visit this link to order.
To Your Direct Mail Success,
Travis Lee
P.S. If you need a little more inspiration for this campaign idea, check out this quick 6-minute video I made on how to best use the gold medals. Check it out here.