One of the big mistakes I see businesses make in their marketing, and it doesn't matter if you're selling B2B or B2C, is asking for too big of a commitment from the prospect, too early. Sure, we'd all love it if every prospect would buy our wares at first sight. That sure would make things a whole lot easier. But it simply doesn't work that way. For most of us, asking for money at the first step of the relationship would be akin to asking for marriage on the first date, it's crazy! Buyers buy at their own rate and speed, and as business owners we must play the 'seduction' game.
This month's example is a great case study in the seduction game. It comes from long-time clients, eWeb Results (ewrdigital.com) and their Head of Digital Strategy, Matt Betram. Matt runs a full-service digital agency. Most of his clients and potential clients are spending $10,000 to $100,000 per month on digital ad spend and SEO services. These types of companies are not, in the vast majority of cases, going to make a buying decision at the first introduction to Matt and his team. That's where the art of seduction started.
How To get A better Response From Your Direct Mail
In most cases, the relationship starts with an offer of a free book, which you can see on this page. I've written about 'book as lead magnet' at length in these pages, so I won't belabor the point here other than to say it's a great way to start the seduction. From there, the prospect is offered a free 30-minute discovery call. This is essentially a vetting call to ensure the prospect is somebody they actually want to work with. From there Matt wants to convert them to a full-service agency client.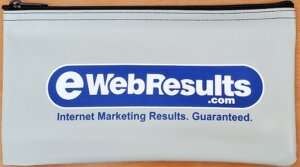 As you can imagine, some don't become full agency clients immediately after the call. Remember, buyers buy at their own speed and rate. While we'd all love to have a 100% closing rate, it's simply not possible. Matt and his team realized they were leaving a ton of money on the table from their unconverted leads.
The first step is the letter you can see here inserted to a custom bank deposit bag this month and the "Problems to Profit Plan" (PtP) offer they created as an intermediate next step offer at a price point of $599.
The PtP plan is essentially their first month onboarding program for a full-service client; all the digging, research, uncovering and opportunity analysis they do during that phase of the process. This allows the prospect to get something of great value, while also having skin in the game. Thus far, everything has been free, but now it's time to put at least a little on the table. After the PtP plan the prospect ideally signs on as a full-service client, or they take their plan and implement it themselves.
Think Long-Term with Direct Mail
This letter in the custom bank deposit bag (which you can order here in low minimums) is the first of three steps. The follow-up also includes phone calls and emails from their sales team. The second step used the 9×12 "faux" express envelope, the third step is the self-mailing trash can.
For business seduction to work best, you need marketing assets and media, systems, and technology implemented and working together. This concept isn't new, many people over the years have pointed out the countless correlations between business and romantic seduction and sales and marketing. The reason is simple, in business and Seduction, it's all about TRUST.
Is It Really Worth All This Trouble?
Yes, this may all sound rather complex, but process complexity is an extremely valuable asset, and it gives you the giant advantage in sustaining the interest of your prospect. Your direct and IN-direct competitors are likely not using processes to lure away your prospects, let alone complex processes. But when you do, the seduction game becomes much easier. So, what are you going to do this month to seduce your next customer?
Marketers all over the country have mailed over 675,000 of our bank bags since we introduced the product in 2008. Need some more inspiration? Here are Sample letters you can use to get you started:
The custom bank deposit bag, works as a self-mailer. Simply attach your mailing label to the back, un-printed side of the bag, and drop it in the mail. Visit us online right here to order your own custom bank deposit bags or call Tara at (360) 761-7486 to order and to get all your questions answered.