If there's one thing every business need, it's a fresh batch of new, ready-to-buy referral clients lining up each day. And direct mail marketing is one way help get more referrals, quickly. However, like most things, it's easier said than done.
One of the best ways we use 3D Mail is with to get REFERRALS.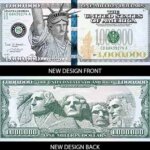 Here's a copy of a letter we wrote for a kitchen remodeler using the Million Dollar. If there's one thing every business needs, it's a fresh batch of new, ready-to-buy referral clients lining up each day.
Referrals are your second easiest client to sell to (#1 being your own, current and active clients). So it would make sense to nurture referrals. I highly suggest you have marketing campaigns and systems in place in your business to get your current, happy clients to give referrals.
Here are a couple of stats that may jump out at you. First, the average person has an immediate circle of influence of around 50 people. However, the average satisfied customer will only tell 3 other people about a satisfied experience.
The important thing to understand is satisfaction is not sufficient.
The secret to referral stimulus is the difference between satisfaction and enthusiasm produced by meeting, or exceeding expectations. Think of it this way, none of your clients leave your store, practice, office, or website thinking to themselves, "How can I tell as many people as possible about this experience?" You've got to give them the reason to do it and the tools so they can do it.
There are three main psychological reasons why people refer:
For personal gain
To help people they know
To Help YOU!
#1, is probably the one people think of the most when it comes to getting more referrals. Quite frankly I can easily see why. As marketers we are constantly trying to answer the question, "What's in it for me (your client)?"
There are tons of ways to get more referrals through the personal gain of your clients. You can give them gifts (which we've done in this months example), discounts, prizes, entries to drawings, recognition. The list is virtually endless on what you can do to get your clients to refer more for their own personal gain.
#2, helping people they know, is something they usually need to be encouraged to do. Again, we've accomplished this as well in our example. It can be as simply as a mention when you have them on the phone, or a short write up in your printed newsletter. Whatever you do, be sure you are constantly and consistently reminding your clients to tell their friends.
#3, to help YOU, is the best place for you to be in your client's mind. Whenever you WOW them to a degree that they feel they need to repay you for the experience in the form of a referral, you know you have something special!
You dramatically increase your sales and your profits by using direct mail to get referrals.